Imagine! It's 40 degrees outside and you only own a velvet top/shirt. You have two options: a. stays inside and miss out on all the fun or b. goes out wearing velvet and burn yourself in the heat. None of the above works. Right? (unless you are a hardcore introvert and like staying inside).
In a situation like above, you would need cotton fabric to survive the heat, or Rayon fabric will do the task as well. So, the moral of the story is, you cannot wear every type of cloth in every season, and that depends mainly on the fabric and not the design. Well, it is the main base of any garment.
Therefore, you need to own some basic fabrics which will help you survive the whole damn year. You need not hustle here and there to find these fabrics. Fabcurate is on your service 24×7 to provide you any fabric you want.
List of Top 5 Fabrics
We will discuss the list of top 5 fabrics that everyone should have in their Wardrobe. Let's discuss the basic fabrics that everyone must own.
Cotton
Cotton is the most common fabric and everyone knows about it and owns a cotton t-shirt too. It's a staple. Needless to mention, it is the most important fabric because it is going to help you from the heat all summer. And probably help you enjoy your dreamy Maldives vacation too. It is a cool fabric and has higher sweat absorbency rate and is a natural fiber. Apart from that, cotton fabrics are breathable and soft. So, cotton comes in the category of a must-have fabric.
Rayon
Just like cotton, Rayon is a summer-friendly fabric. But it is a semi-synthetic fabric. That means, it is obtained by natural sources but undergoes chemical processes for viability. Therefore, it lacks water absorbency as compared to cotton but is breathable. It holds a subtle shine and has great drapery, making it more viable for party outfits and brunch looks. Well, if anything is comfortable, soft yet glam, then you should own that thing for sure. That is Rayon fabric for you.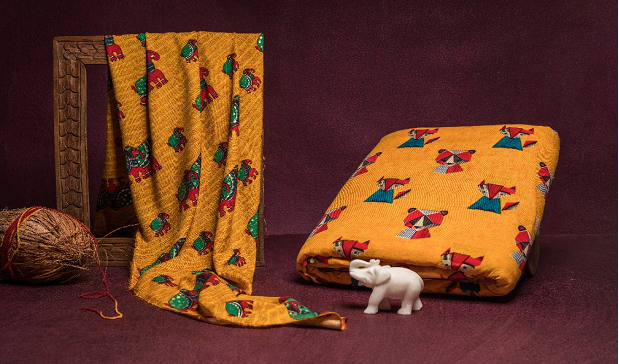 Chiffon
From Bollywood to Hollywood, chiffon fabric has marked its supremacy everywhere. It is the most wanted fabric when it comes to ball gowns or simple scarves because it is lightweight, lustrous, and soft to touch. Its sheerness and good drapability make it sexy which makes it even more feasible for designers to use. There should be at least one fabric in your wardrobe which you can wear for all the great high-end outings. Chiffon is one such luxury fabric.
Denim
People can stay without food for a day but not without denim. It has become a part of our lives and why not, it is a classic piece of brilliance. This fabric is suitable for every season, and most occasions. Denim jeans, denim jackets, denim shirts, it's super versatile. You can pair jeans with tops, jackets with ethnic, shirts with skirts, there is no limit. You should own some denim staples to accentuate your looks.
Wool
Winters and wool go hand in hand. Nothing can save you from winters as woolen fabrics do. Though it serves your fashion need too, the colors and the designs make it super fashionable to wear. You need to have ensembles of this fabric to be on the safe side.
Discount Coupon
USE CODE- FASHIONBOMBAYXFABCURATE10 to avail extra discount on the staple fabrics. I hope you will buy all the top 5 fabrics from our store.