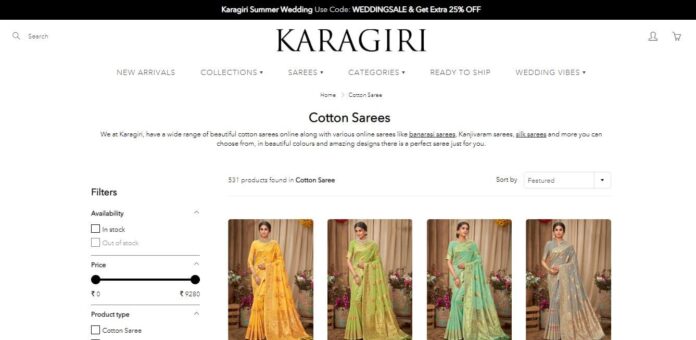 Sarees are the ultimate fashion wear for women. The versatility of the nine yards of saree means one can wear it on multiple occasions, including weddings, casual days, parties, and formal events. If you want to tweak your style towards something more ethnic and chic, you can switch from dresses to sarees.
Instead of reserving sarees only for traditional occasions, you can wear them on regular days too. But with the advent of summer, if you think wearing a saree can get too tedious, you can buy cotton sarees. Cotton sarees are exceptional summer wear because they will keep you cool and stylish at the same time.
If you are still wondering why you should be switching to cotton sarees this summer, let us tell you why.
Super Comfortable
The kind of comfort that cotton offers is second to none, which is why this fabric is the most-chosen one during summer. Not just summer, cotton is a suitable fabric for all seasons because they provide warmth and insulation during the winter months too. A cotton saree is soothing to the skin when worn during summer because the fabric doesn't cause the skin to itch. The soft fabric feels easy against the skin and can easily soak up sweat, avoiding any rashes. If you think draping a cotton saree will cause more heat in your body during summer, you need to buy cotton sarees now and try one to see how comfortable it feels.
Very Versatile
No other saree is as versatile as the cotton one because they can be worn almost everywhere. You can incorporate cotton sarees in your daily wear as well as wear them during festive occasions. The design and print on the cotton saree will depend on the occasion you attend. A simple cotton saree with a Jaipuri print is more suitable as daily wear while you can wear the embellished cotton sarees on festive occasions.
Elegant Look
If you think cotton sarees are plain and boring, you need to simply amp up your look by accessorizing it right. A plain cotton saree can be revamped in the most elegant way by accessorizing with oxidized jewellery such as a choker, bangles, anklets and even rings and earrings. You can still pull off an elegant look by keeping things to a minimum such as wearing a delicate thin chain with a plain cotton saree or a cotton saree with minimal prints.
Explore Variety
Cotton sarees come in an abundant variety, which means you can try a new variety every time you step out. From gadwal cotton sarees of Uttar Pradesh to Sambalpuri cotton sarees to tant to bandhani to cotton silk sarees, there is no dearth of cotton sarees to choose from.
Why wait for festivities when you can buy cotton sarees in different varieties and cut an elegant figure even on a daily basis? You can buy cotton sarees online and experiment with your style one saree at a time.